A word of warning!!!!

HELLO AWIN

If you are one of those who doesn't care to hear negative opinions or doesn't believe one's $10,000 dress deserves any criticism or critiquing, then you should just close this up and come back in a few days when I publish a fabulous story about a house in Beverly Hills.

You've been warned!

To me, the 2019 Golden Globes fashion show was a huge disappointment. Maybe I was just in a bad mood, worrying about Ben whose migraine came back and is now going on Day #5.

Or maybe I wasn't thrilled by the shows nominated - probably because I hadn't seen that many of them.

Or maybe it was because I don't know a lot of these social media-fed millennium overnight sensation stars.



I mean, she's beautiful for sure and probably talented, but who is Xenia Tchoumitcheva for God's sakes???

OK OK she is actually 31, a Russian-Swiss model, actress, blogger and entrepreneur!!! And not even a millennium.

Worst of all, I found most of the clothes uninspiring, not very pretty, and some were just plain weird.

There were few "gasp" moments, when I actually stop breathing at the arrival of a star in a beautiful dress.

Granted, this isn't the Oscars, so the dresses are not expected to be show-stoppers. But, still. This is the opening event of the Awards Season and everyone is tuning in to see who won and who lost as this is a precursor to who might win an Oscar. Let's just say this is a Dress Rehearsal for the main event and a lot of tonight's stars need new stylists.

So….despite all the stinkers, there were some pretty ones mixed in. See if you agree with my opinions: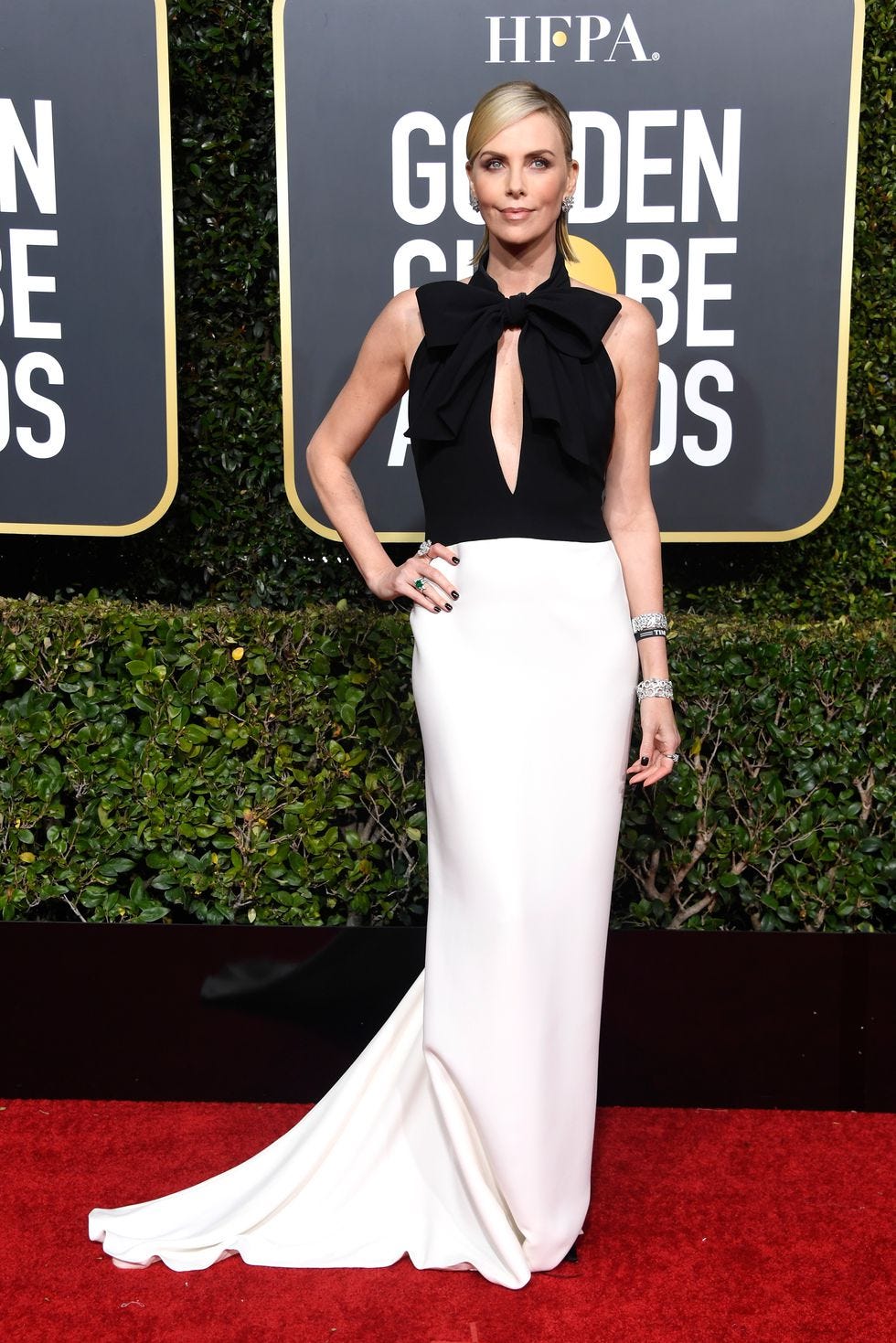 Charlize Theron in Dior Couture. This was one of my most favorite looks of the evening. Not surprising – Charlize is a face of Dior and they rarely let her or another face, Jennifer Lawrence, down.
Black and white and just white were two looks seen on a lot of women.
I loved the oversized bow and the small train, not such a long train that bothers everyone else who are trying to avoid it. And the diamond rings and bracelets and earrings were just the right amount of bling for the evening. Her hair was perfect.
Best Dressed of the Golden Globes!!!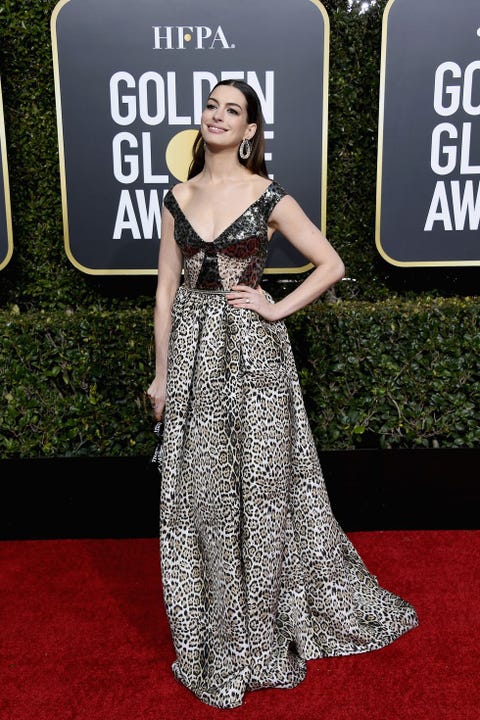 Anne Hathaway in Elie Saab. Many fashion critics hated this one but I have to be honest - I really liked it. It was so different but still in good taste with a bit of fun woven in.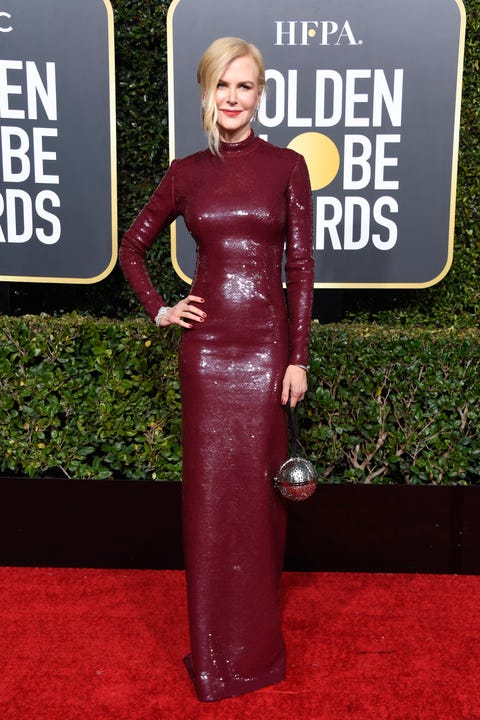 Nicole Kidman in Michael Kors Collection. Nicole Kidman is another one who never gets it wrong. When she does, it's major news because it is so rare that her stylist doesn't come through for her. It helps that she has a fabulous figure which looks wonderful in everything and that she is stunningly beautiful and can afford to hire the best stylist and wear the most expensive labels.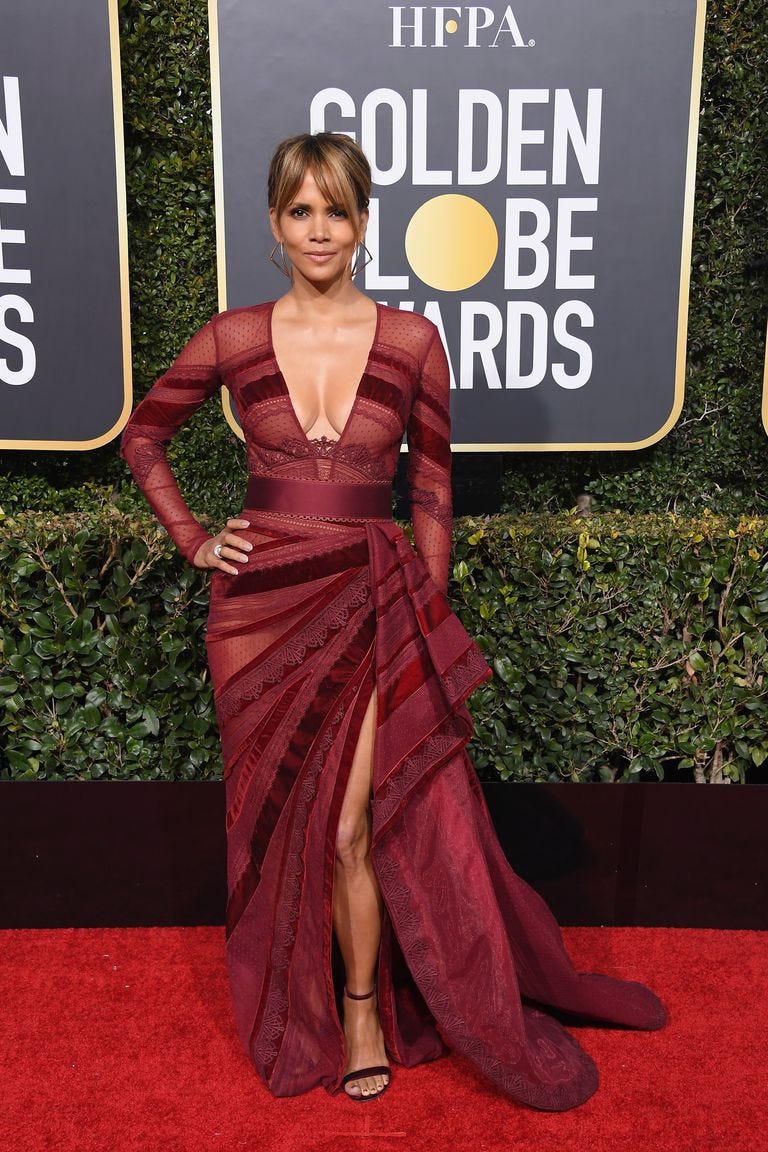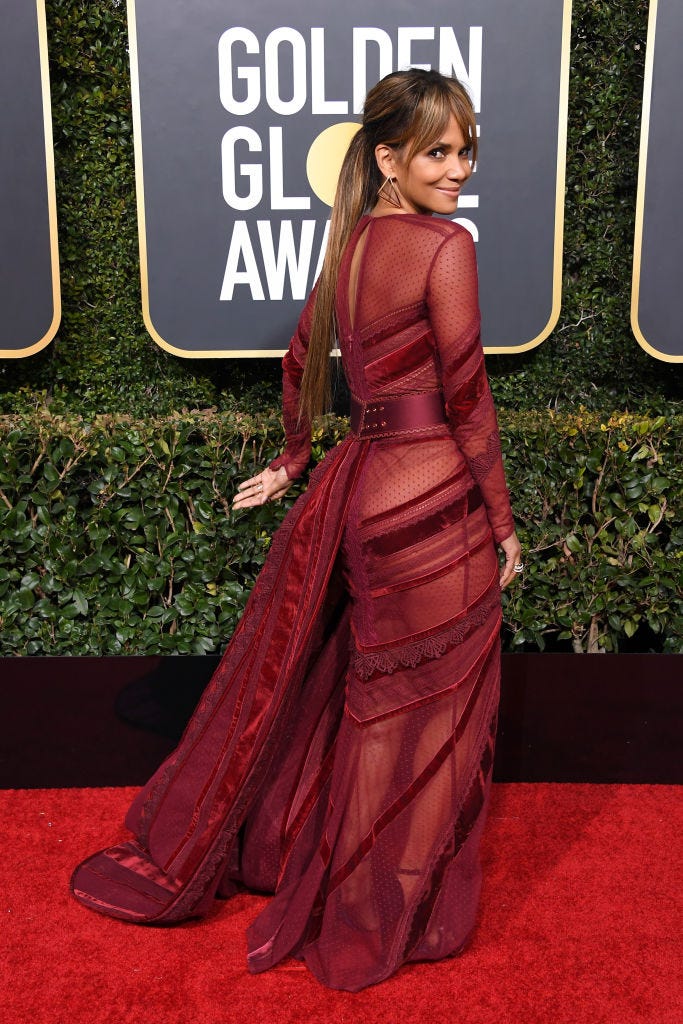 Hallie Berry. Some panned this dress, but again, I liked it. I liked the belt and the way the see through skirt is pulled up through it. The color looks great on her and her hair looked casual to fit the dress.
The Green Girls:

Catherine Zeta-Jones in Elie Saab. Green was a popular color this year. She always looks like a major movie star. Gorgeous woman, like Vivien Leigh, the emeralds were stunning.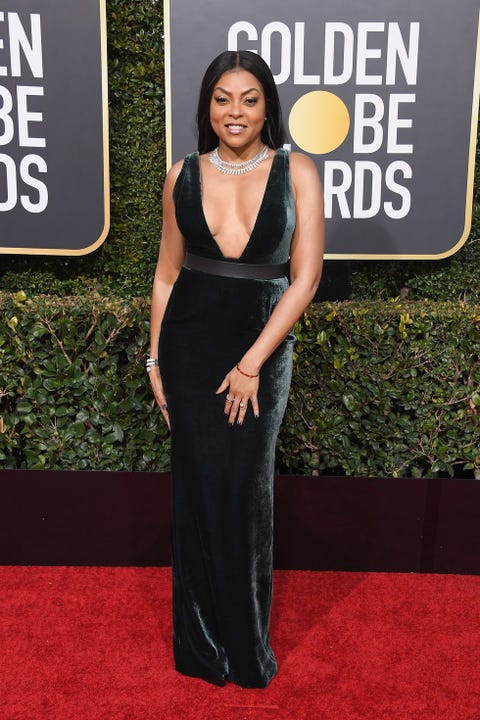 Taraji Henson in deep deep green. Beautiful!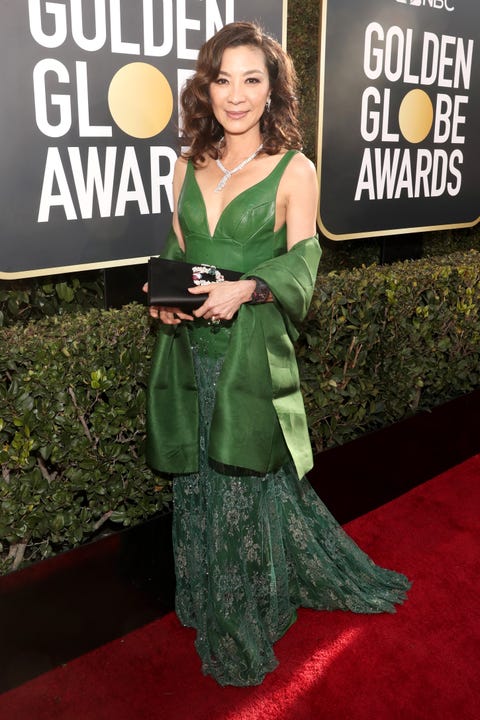 Michelle Yeoh – loved her leather bustier. Beautiful greens. She wore her ring from the movie – Crazy Rich Asians!!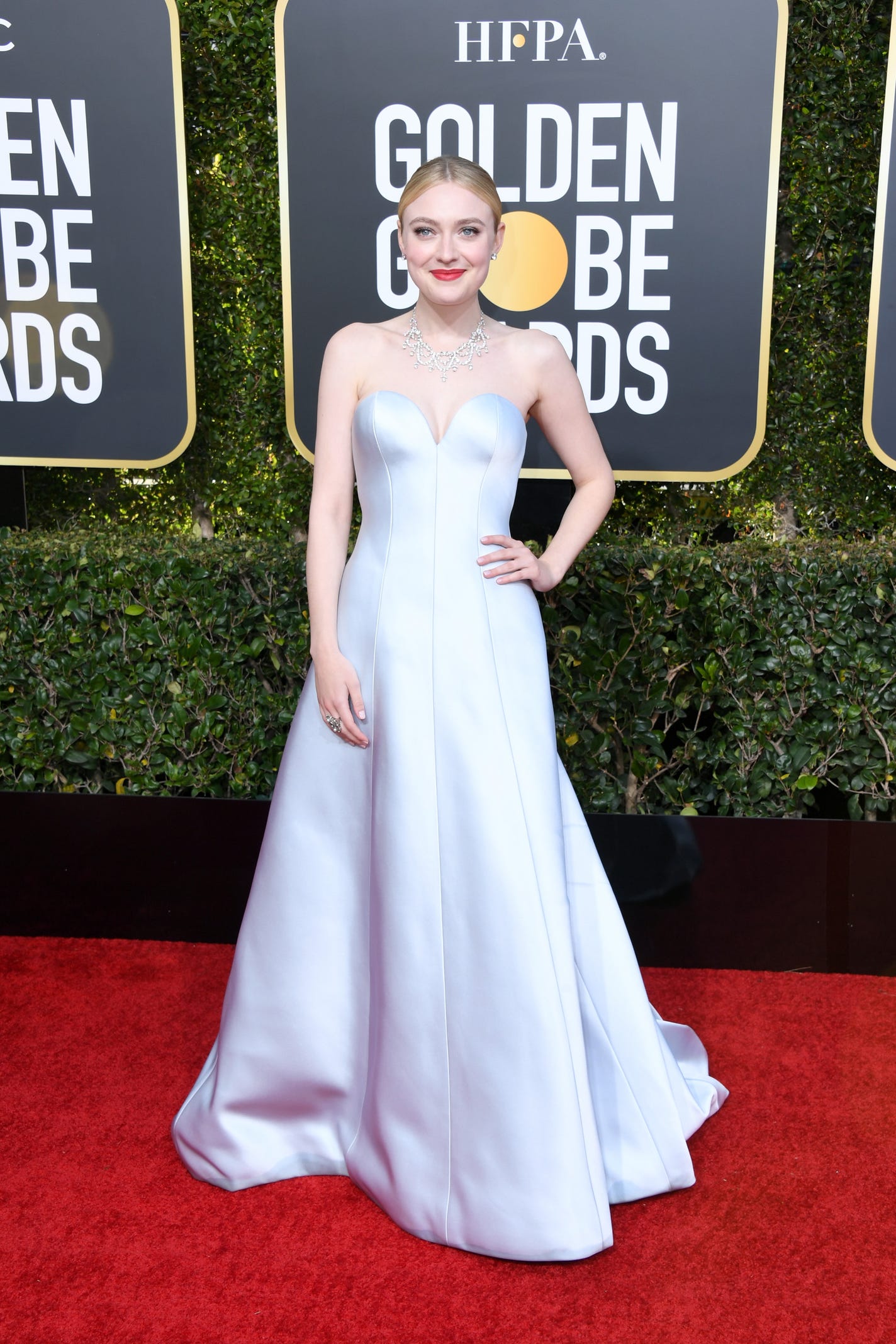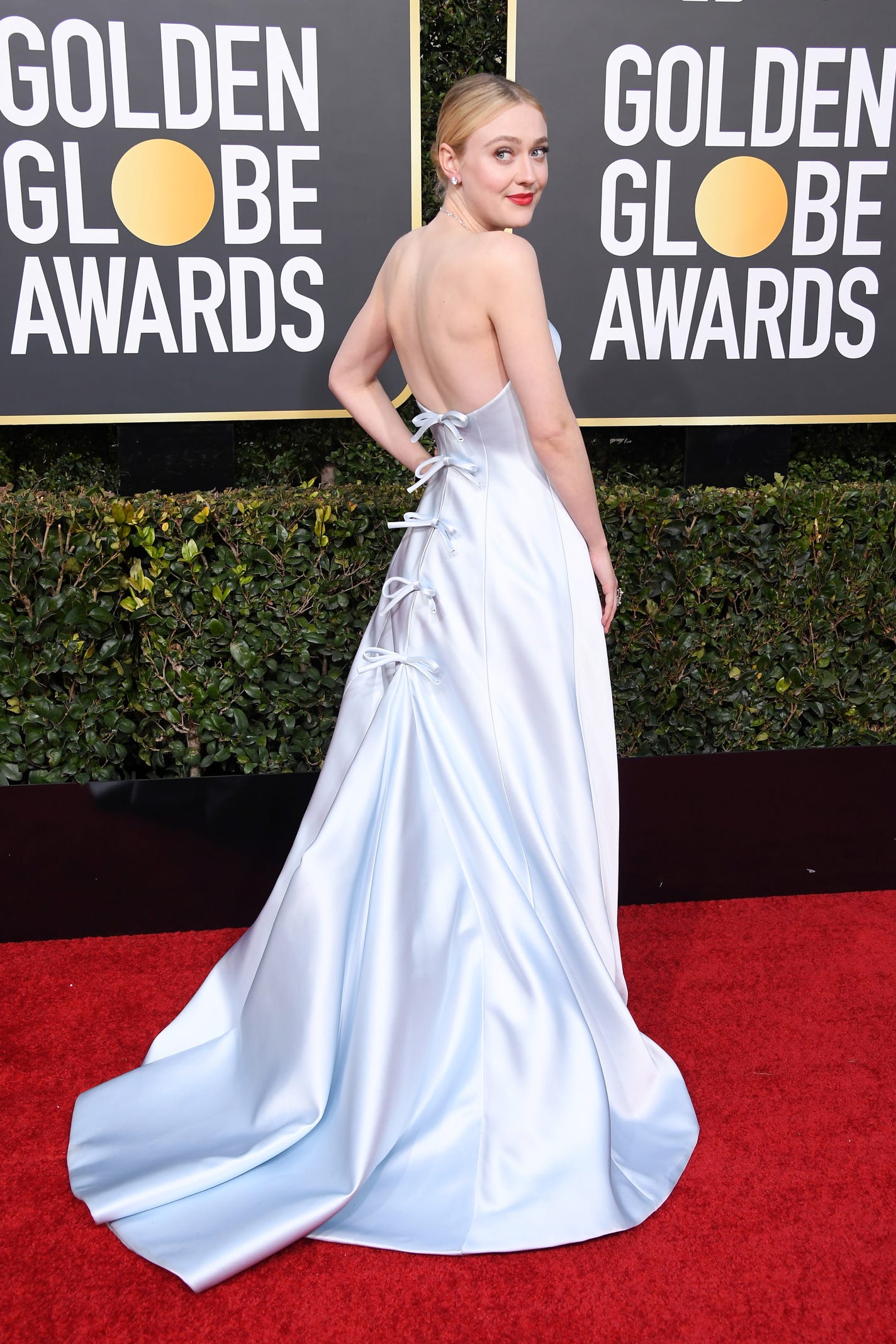 Dakota Fanning in Armani Prive was another top favorite. The pale blue was perfect for her blonde hair and light colored skin. I loved the cut and the cute bows in back. Her hair was perfect, the red lips divine, and the necklace was just the right amount of bling.

Emily Blunt in Alexander McQueen – at first I loved this, but later, the hem started to look a little like macramé! It certainly was on the Best List for me. Just maybe not Top Honors.
Saoirse Ronan in Gucci – she looked the most mature I've ever seen her, maybe even the best I've seen her. She is a notoriously bad dresser on the Red Carpets. But this dress is chic, her earrings are fabulous, her hair looks simply pretty. A win.
The Sheer Girls: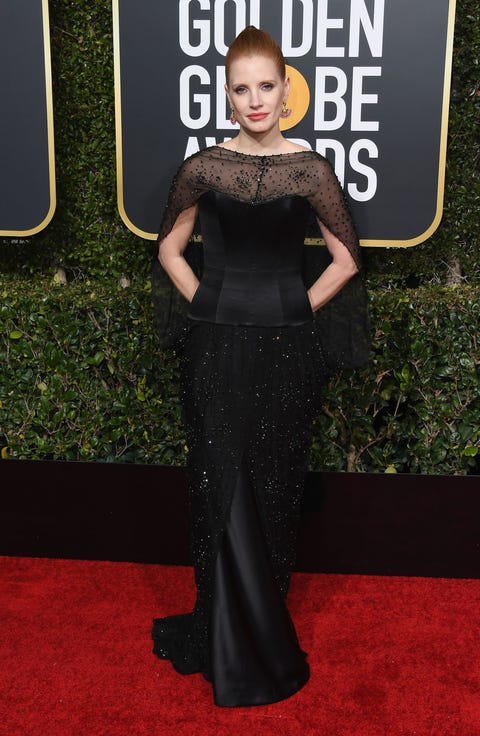 Jessica Chastain in Burberry – she's another one with a terrible stylist, but tonight was a win. Sheer bolero, hair in a upswept bun, another win!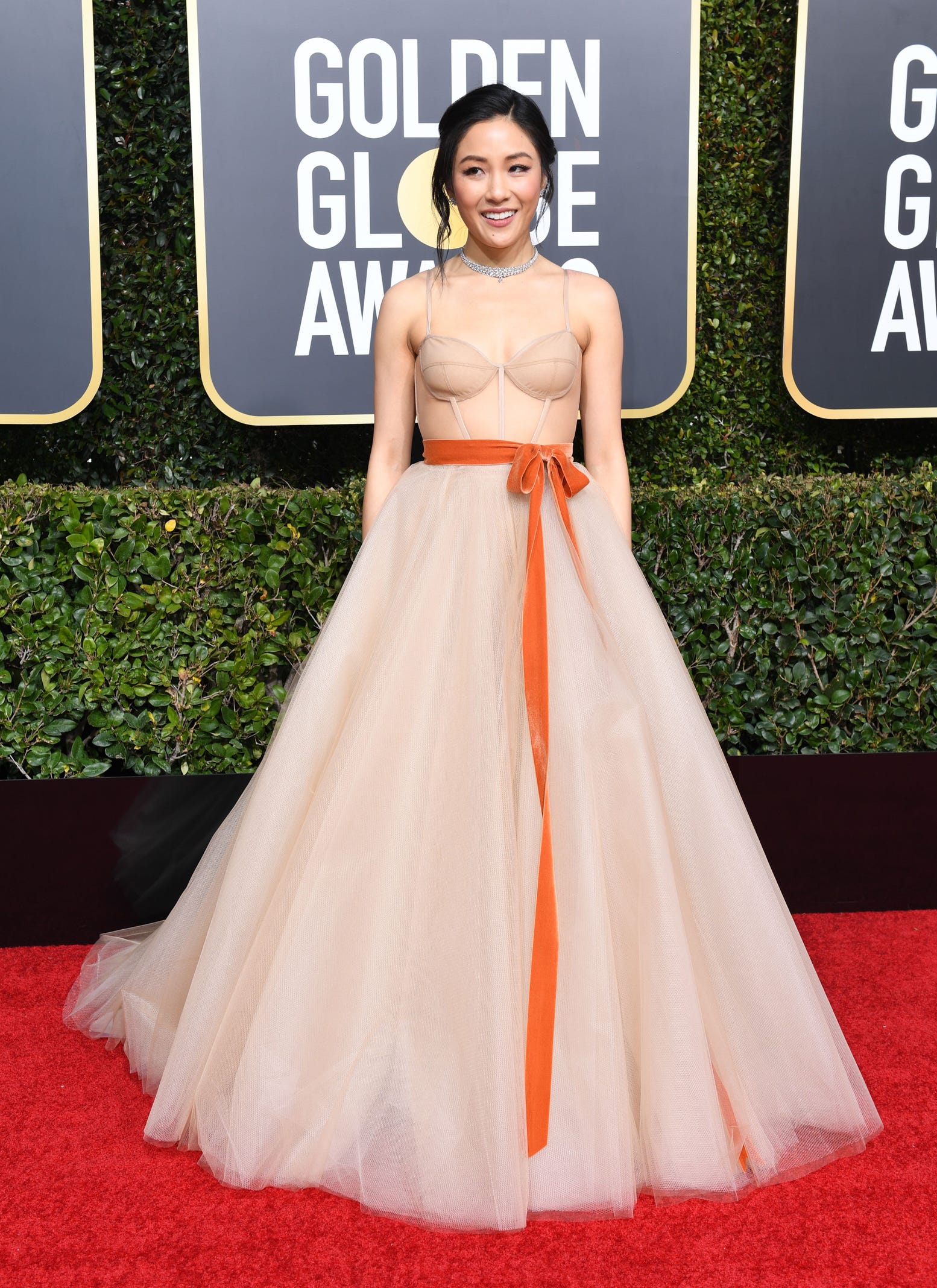 Constance Wu in Vera Wang. Wu looks as fragile and innocent as her dress does until you realize how actually sexy it is with a bra top. Love the barely peach sheer fabric with a dark peach bow. One of my favorites for tonight!!! Maybe #2 after Charlize, whom I am giving #1.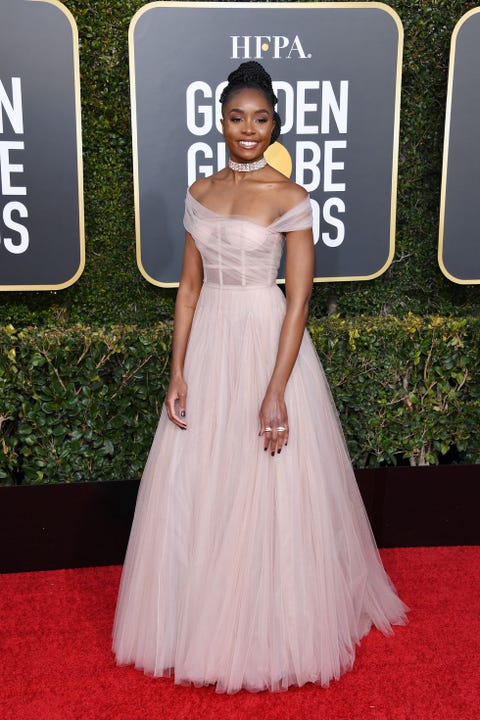 Kiki Layne in Christian Dior – another sheer in barely there pink. Oh. I love this!!!! I love the neckline and the cap sleeves. She looks gorgeous! My #2. It's a tie with Constance Wu at this point!!!
Patricia Clarkson in sheer, another huge look for tonight. Sheer was everywhere, along with nude. I loved this color on her with her strawberry red hair. Beautiful!!!!
The Black and White Girls: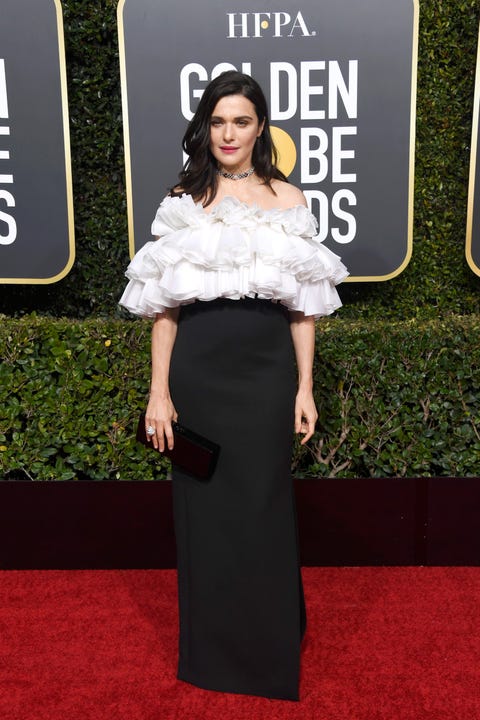 Rachel Weisz in Celine by Hedi Slimane. Mrs. James Bond looked beautiful. Loved the black and white dress. I do think a redder lipstick would have been better.
KALEY CUOCO in Monique Lhuillier. This is pretty. The black/navy bustier top with the black tie. The skirt is slit. Oh. I love this!!!!
Amber Heard in Monique Lhuillier. A total bust. Terrible. Looks like a bridesmaid dress from the 1980s. Terrible dress. It's amazing how one designer can make two black and white dresses and one is fabulous and the other – a dud!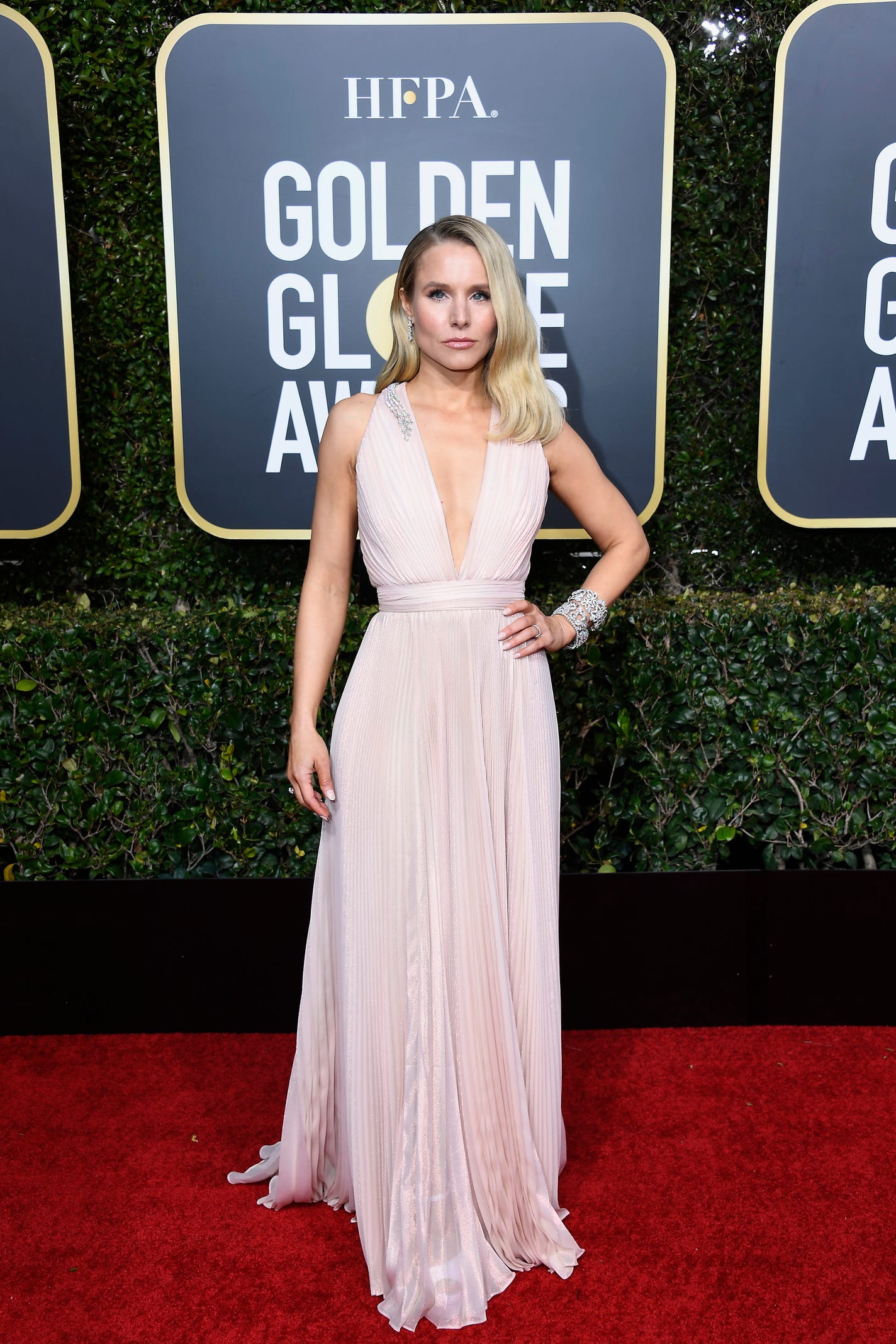 Kristen Bell in Zuhair Murad - another sheer barely pink, micro pleats, columnar dress. Elegant!! Love the bracelets and pin. But, come on, smile girl! I swear, she was frowning in every single photograph. SMILE!!! You look beautiful!

Kate Mara. This is a real kooky choice – Miu Miu, but I like it. The Maras are always stretching the limit. It actually would have been a bit prettier without that lace at the ankles which makes it look like a nightgown.

Taylor Swift. Not a favorite of mine, the person, that is. But she does look pretty in yet another sheer dress. She has the body that looks good in anything she wears. Dang her!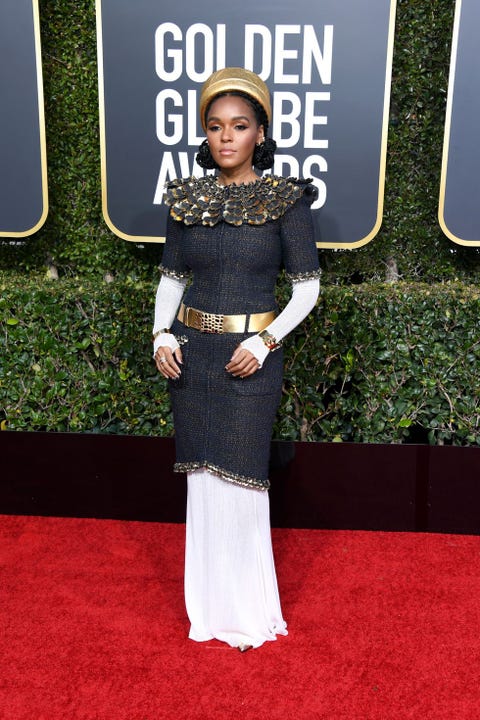 Janelle Monae in Chanel. I liked this even though the critics didn't. When I saw it was a Chanel I felt a little vindicated. I don't know why I like it, but she is just so cute and that hat is so cute and it's a perfect match!!!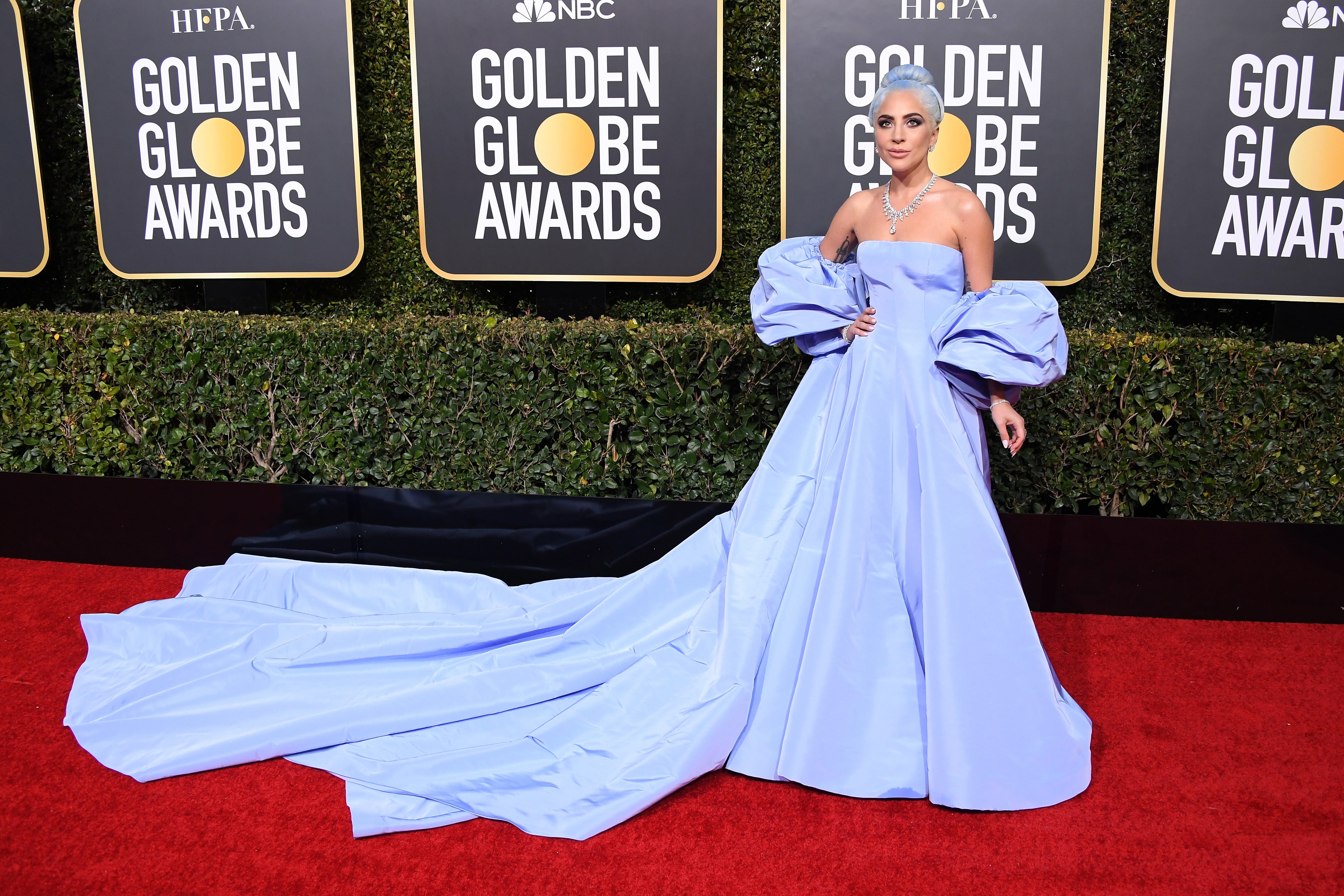 Lady Gaga in Valentino. All the critics said she looked great in her Valentino, blah blah blah. To me, I just roll my eyes at her costumes. This isn't a dress. If it had a regular train instead of a bridal dress church length train – it would look better. I do like her dyed lilac hair and her necklace is to die for.

Bradley Cooper and his Russian Victoria's Secret model wife are quite the couple. Bradley is in trendy white – but they just miss as a best dressed couple. She should have worn something that had white in it or black and white, they don't match at all. Still, they are a gorgeous couple despite the fact that Bradley got shut out at the Golden Globes in a hugely embarrassing way. He probably wants to think up an excuse for not going to the Oscars at this point.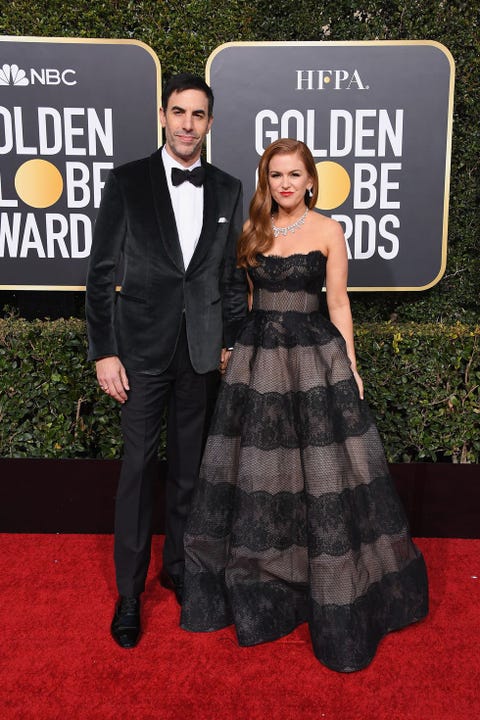 Isla Fisher and Sacha Baron Cohen are a couple who looked like they at least looked at what each other were wearing tonight. They blend perfectly.
I do wonder what life is like being married to that prankster. Does she lecture him – "now behave tonight Sacha, ok? Please, for our children, just behave."
The White Girls: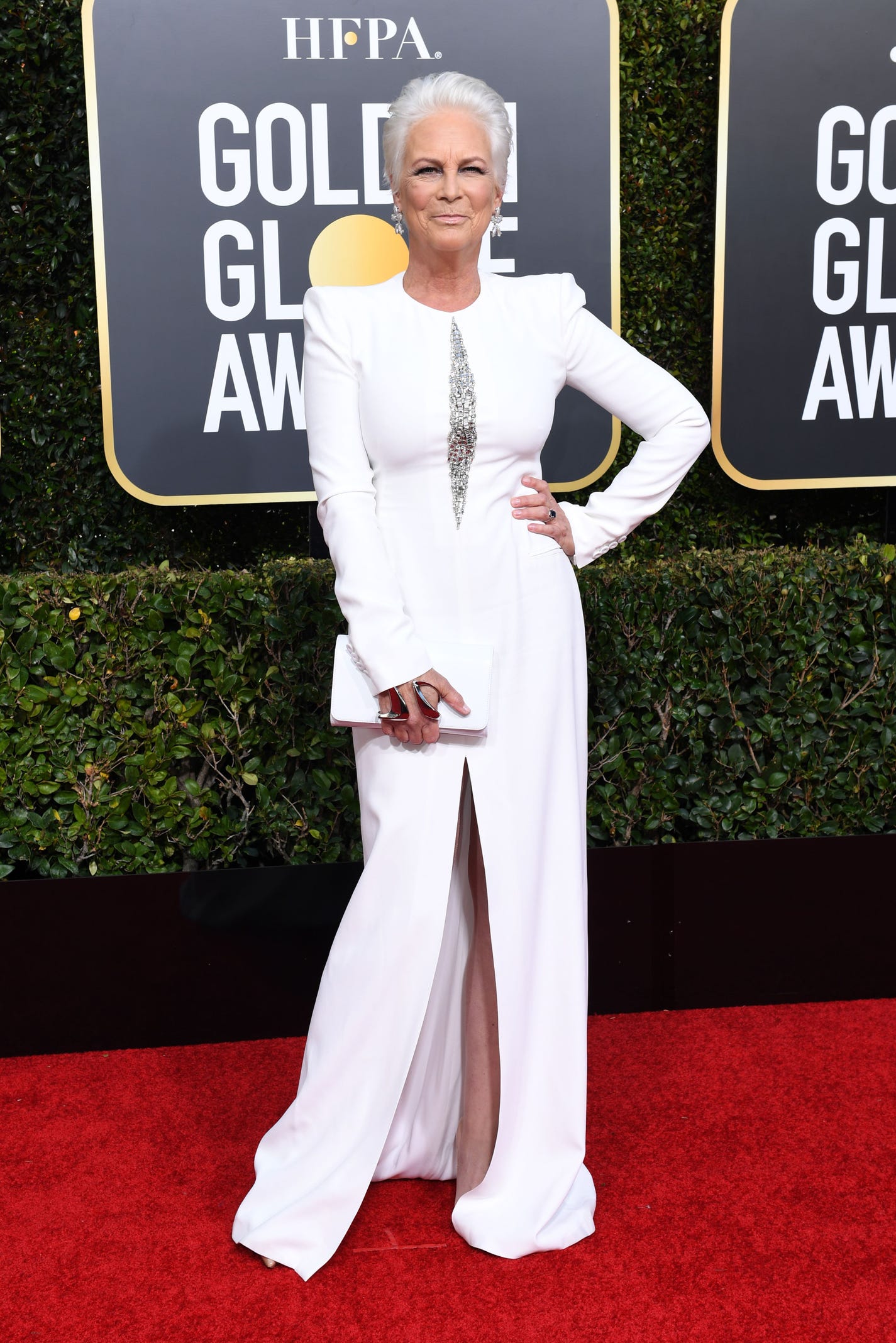 White was a winner tonight. And Jamie Leigh Curtis looked spectacular. She came in #2 tonight best winner. I know – it's a three way tie at this point. But at her age, she looks fabulous!!!! The outfit is fabulous!!!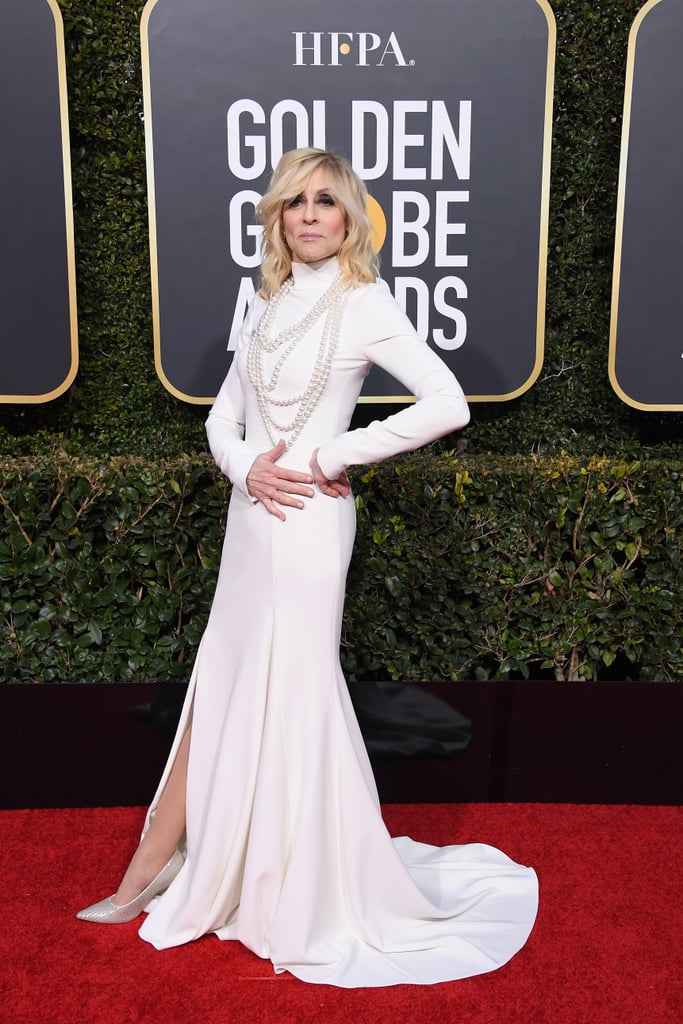 Another one in all white was Judith Light. I loved the long skirt with turtleneck. Chic.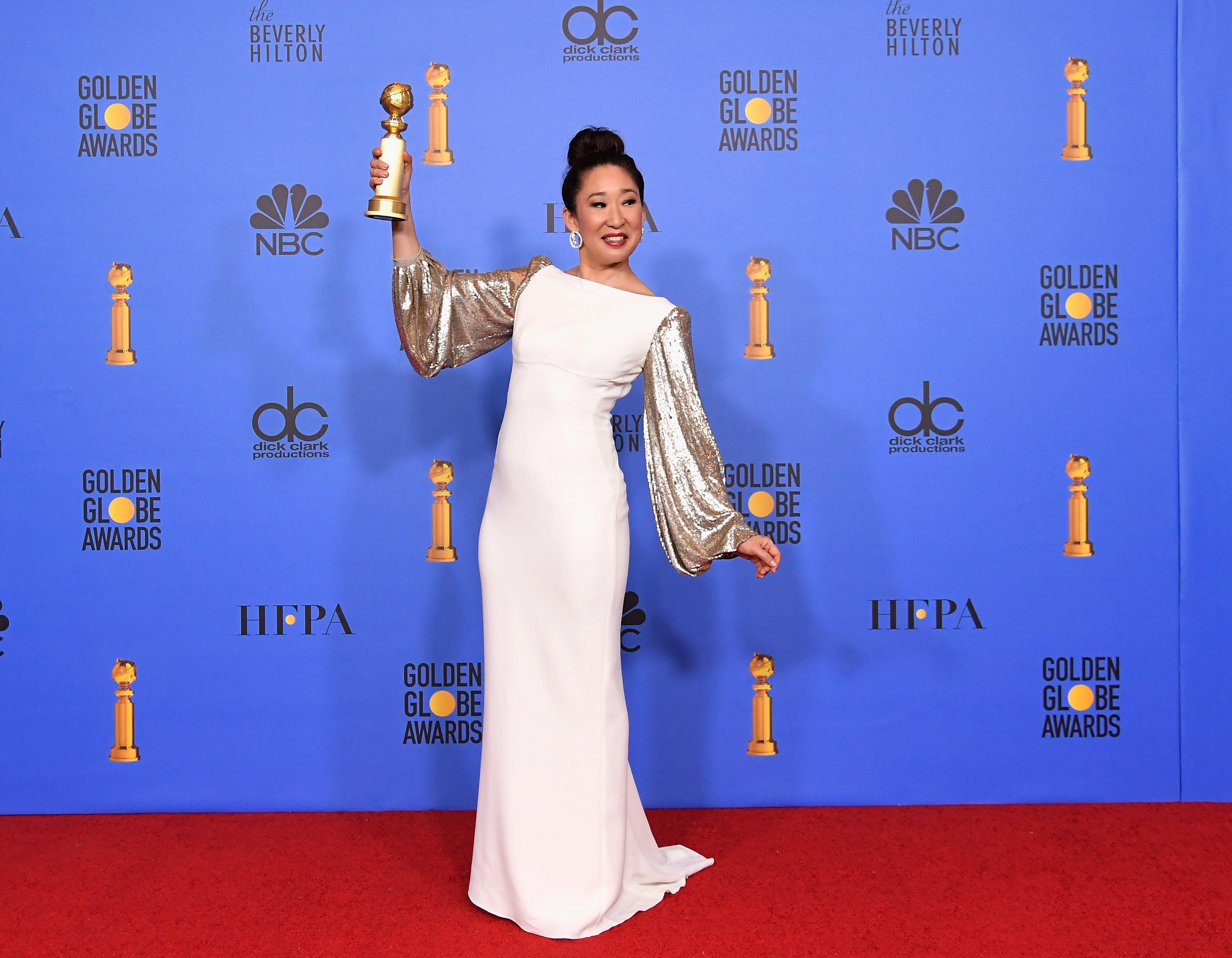 Sandra Oh was a host and she wore two white dresses and one red. Both whites were so pretty. The last one had architecturally straight lines at the shoulders. She looks so good in her clothes. The second dress was equally pretty – it was my favorite of the two. Those diamond bracelets!!!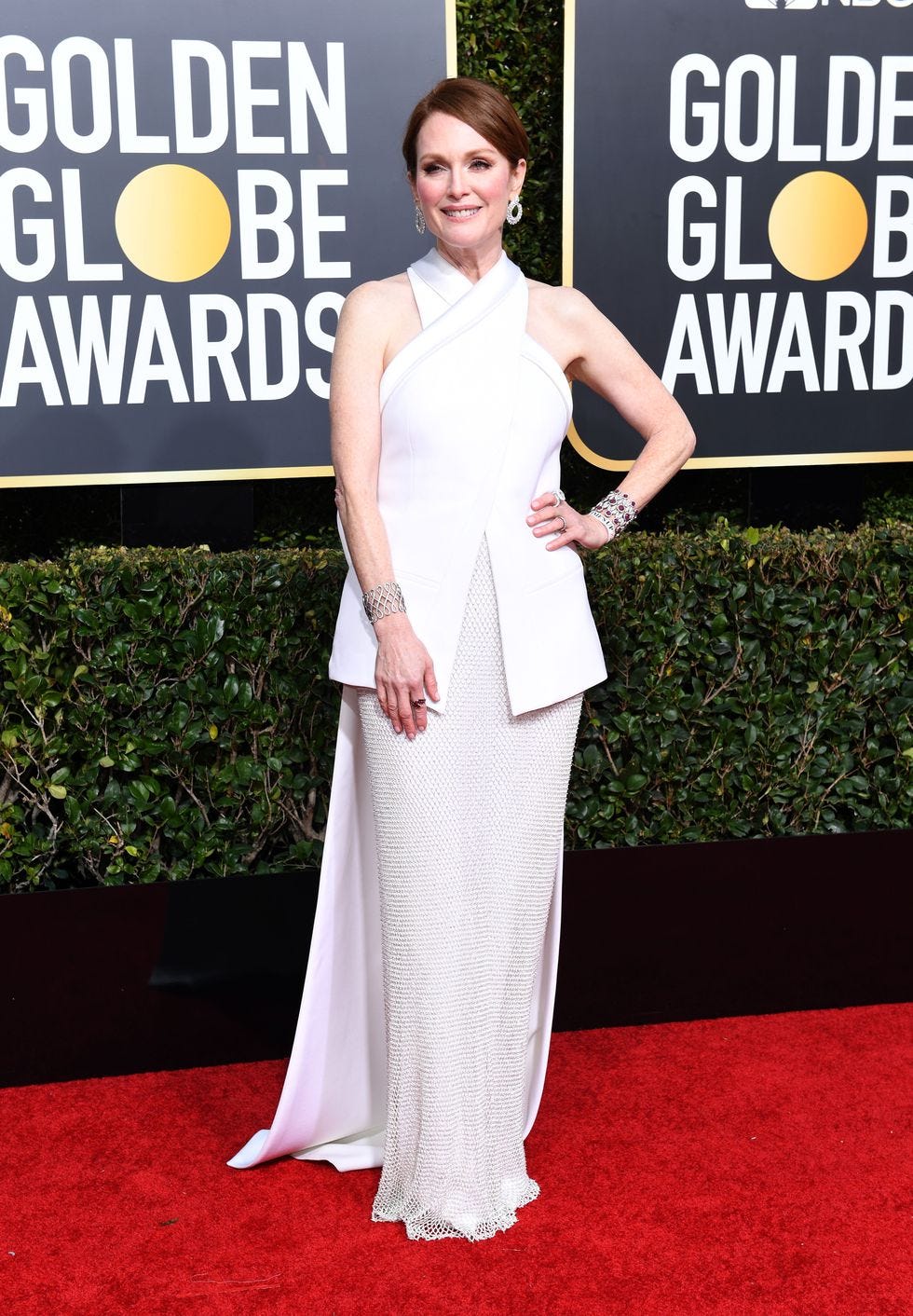 Julianne Moore in a trendy white Givenchy was a shocker. Julianne rarely makes a misstep, but this dress was all over the place. From the front, it's best side, it seemed pretty but once she turned around and showed off her oversized bow – it was all over! The back bow and train overpowered her. And, she looks to pale in white – it's not her best color. She usually looks stunning but not tonight.

The Oopsies!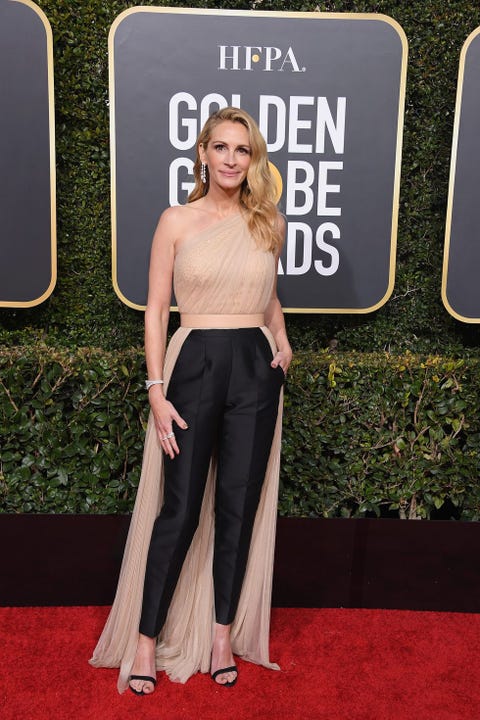 Julia Roberts in Stella McCartney. From the waist up this was fabulous. But I hated the pants with the open skirt. Maybe if the pants were the same color it would be better. To me it looks terrible, but many critics loved it.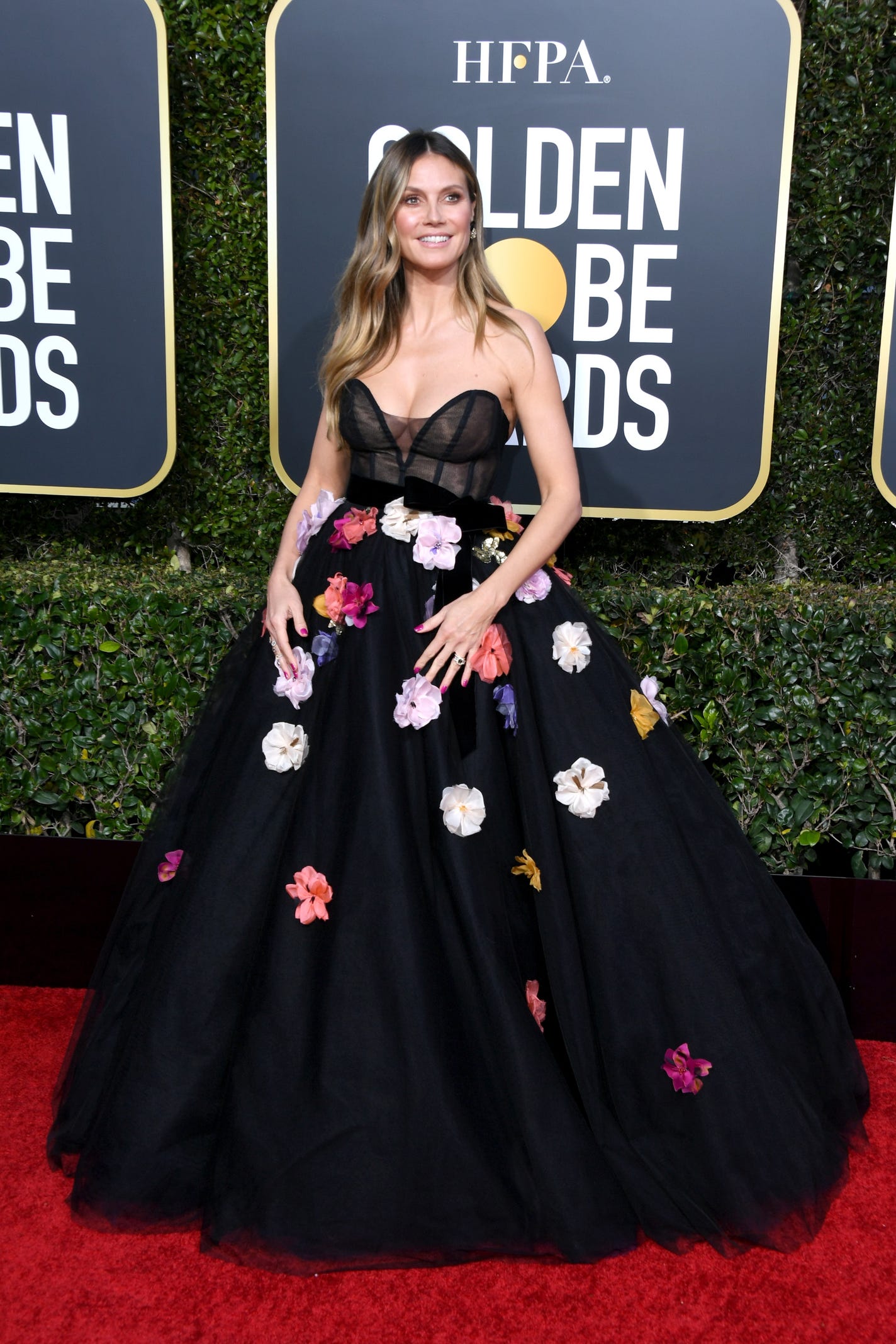 Heidi Klum in Monique Lhuillier. Another weird one. The dress was pretty enough but the top looked like her bra was showing.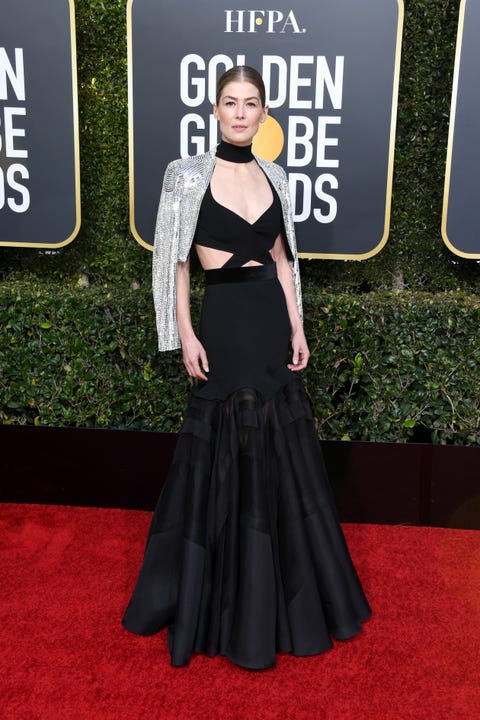 Rosamund Pike in Givenchy – total disaster. She was one of the biggest missteps. The jacket was good and with the skirt and closed jacket – it would have been so much better. But that shirt with the turtleneck strap – just a mess!!!

Elisabeth Moss in Dior Couture – omg! Seriously? She obviously has a stylist that is not honest with her. She would look great in a long skirt with a shirt. A mini skirt is not her best look.

Emily Rossum in Monique Lhuillier – I love this dress but Emily is not right for it. A blond would look better in it, someone with light hair. She looked washed out. Not a good dress for her.

Emma Stone in Louis Vuitton. Well, I just hate this dress. It looks like the nude lining is too big. Nude lining should be skin tight – it should look like your skin, instead it's baggy. Baggy skin. OMG! LOL. It's a Mother of the Bride look and she is way too young for this.
Penelope Cruz in Ralph and Russo Couture at the event. At the after-party, she changed. She looked great at the after party and should have worn that to the main event. Not a fan of the main event – too much material and the skirt looks like purple aluminum foil!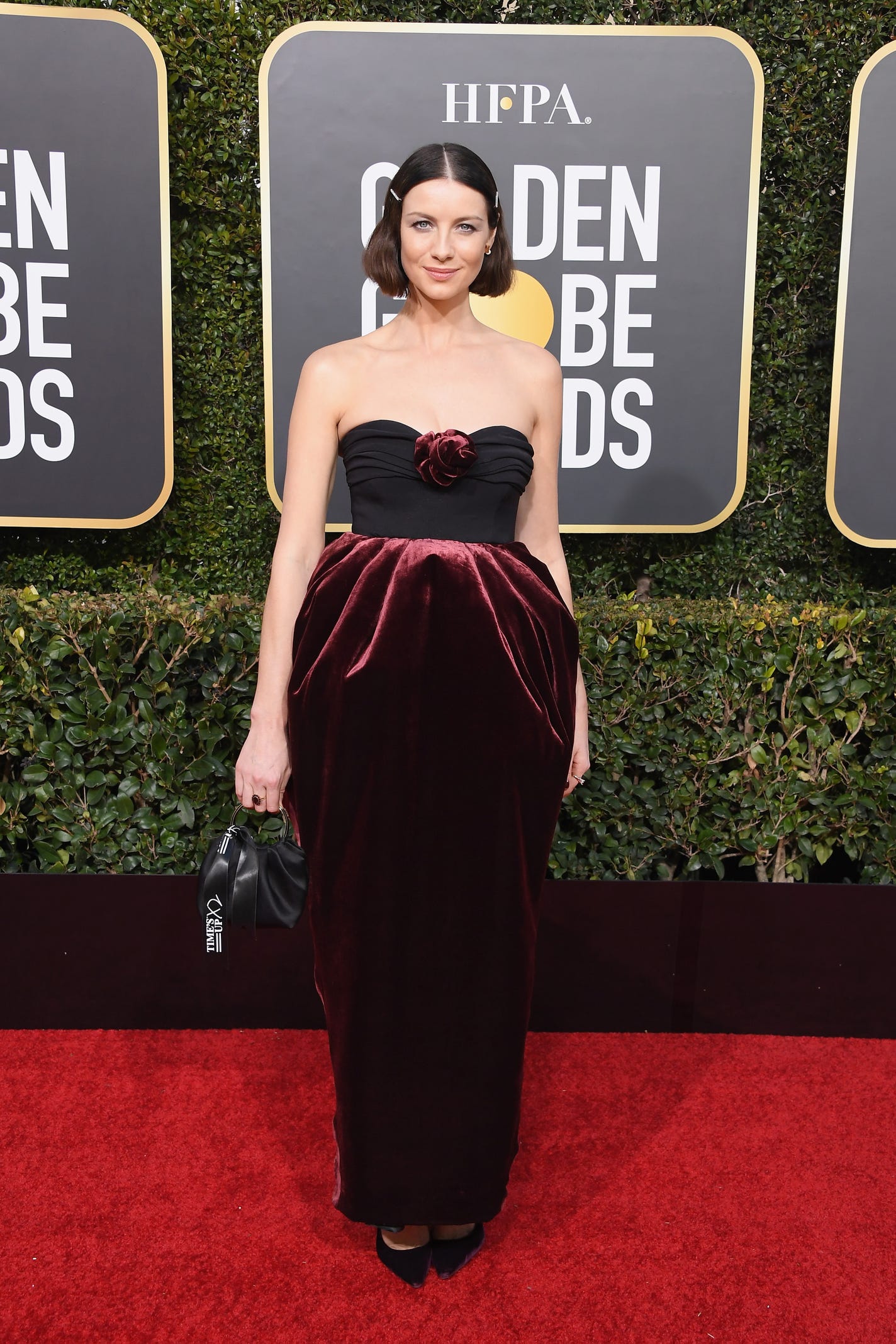 Caitriona Balfe in Moschino. This one killed my personally!!! I'm a huge Outlander fan and Caitriona Balfe is a fabulous actor for the series. She deserves the award! But this outfit. First, she looks pregnant and she's not. She's a tall couture model but she looks fat!! Why would she wear this??!! She recently cut her hair in short bangs which was another mistake. Her stylist has failed her – she should be the prettiest, well dressed at the ball!!!
The Yellow Girls: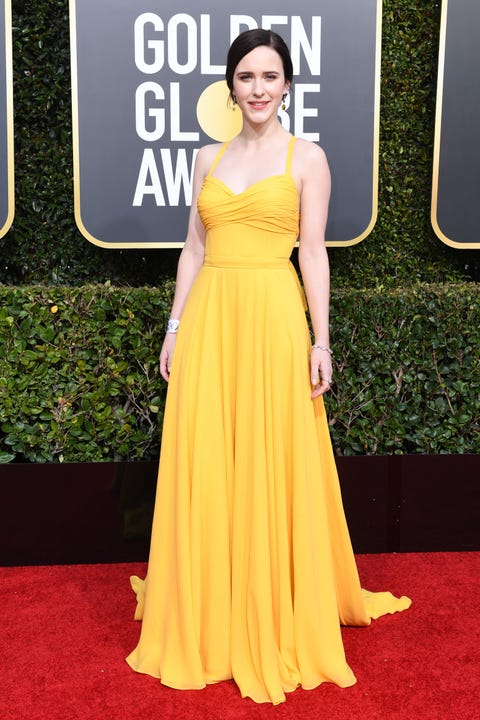 Rachel Brosnahan in Prada – Two wore bright yellow. I love the color but her top reminded me of a swimming suit. Not a favorite.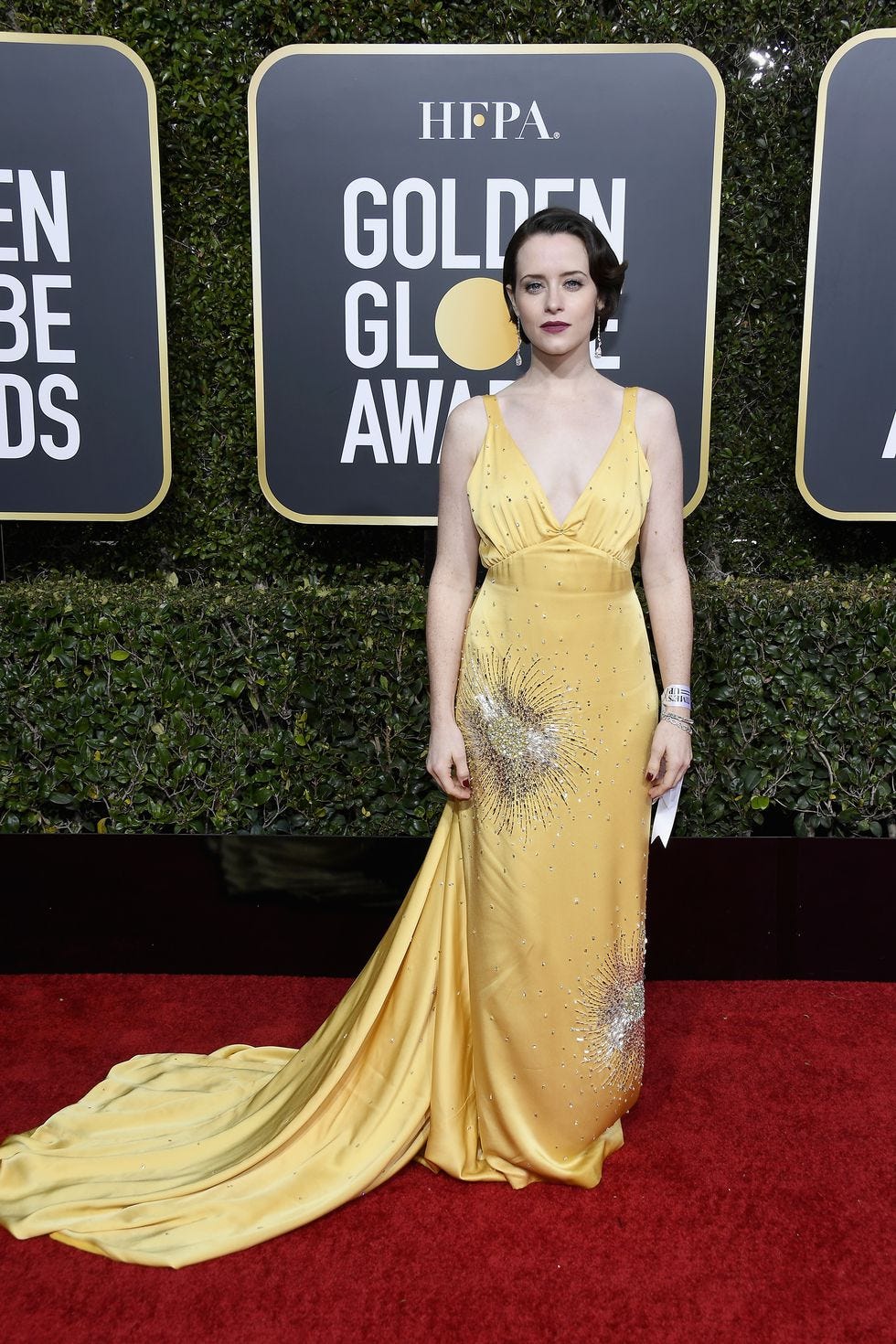 Claire Foy in Mui Mui – just awful. Too big. Ill-fitting. Again this is her stylist's fault. Did she even try this on before the event?

Melissa McCarthy in Reem Acra – Melissa had lost a lot of weight and I feel bad for her that she looks like she gained it back. She's overweight, but she always looks so cute on the Red Carpet. But this color, the stars, the excess material – just a terrible dress on her or anybody.

Elsie Fisher in Kenzo – this is my pick for Worst Dressed. I just can't get around this outfit.

Rami Malak – I've loved him since his Twilight days and he is such a huge star now! I loved the way he looked. His bowtie was white and oversized – just a detail to set him apart. Classic and classy.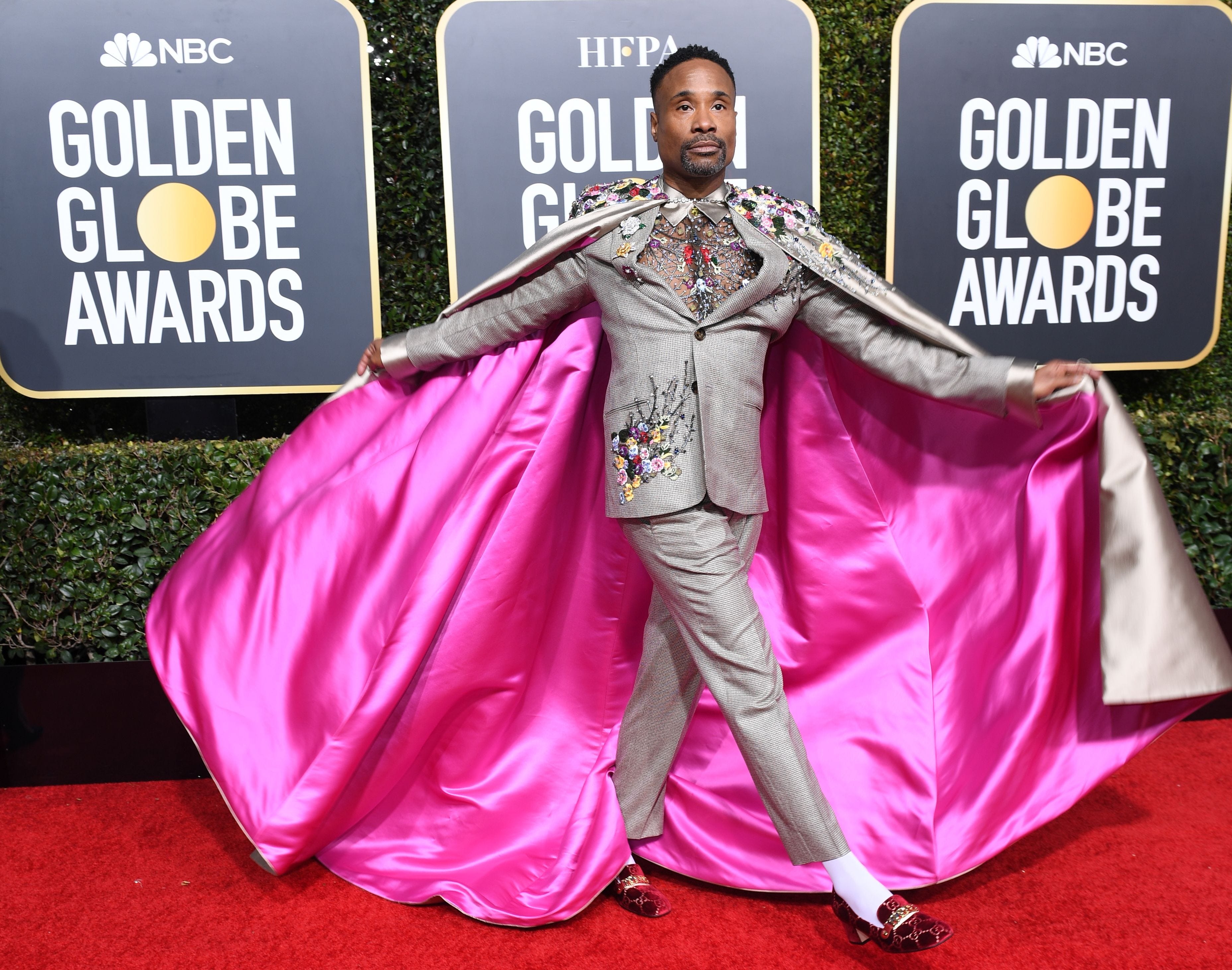 Billy Porter in Randi Rahm – is this the worst dressed man? I kind of like it!!!! LOL. I mean, he's having a great time and it does fit good at least. Such a shy guy!!!!!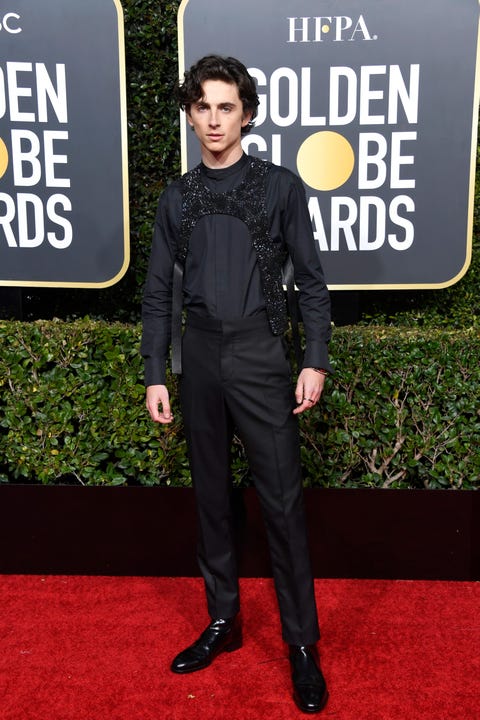 Worst Dressed Man: Timothee Chalamet in Louis Vuitton. He is wearing a sparkle harness. At first I was – worst dress male! Timothee is such a cutie and he dresses with an edge. Still…..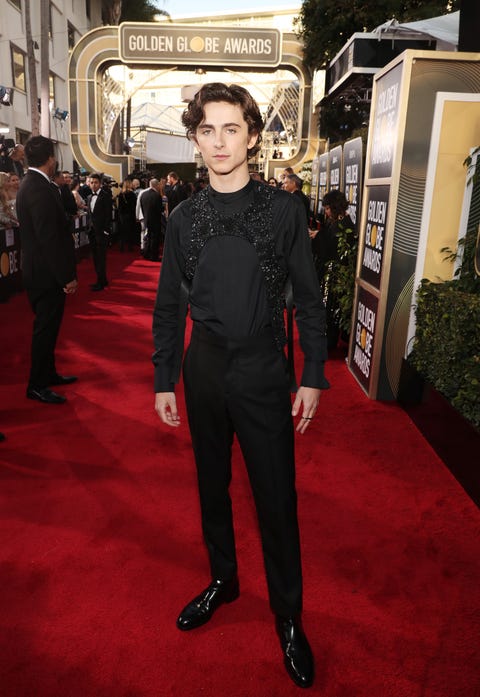 As the night wore on, I kept thinking about his very young age and well – he does look cute. OK. I'll take the Worst Dressed Male away from him and let it go unfilled.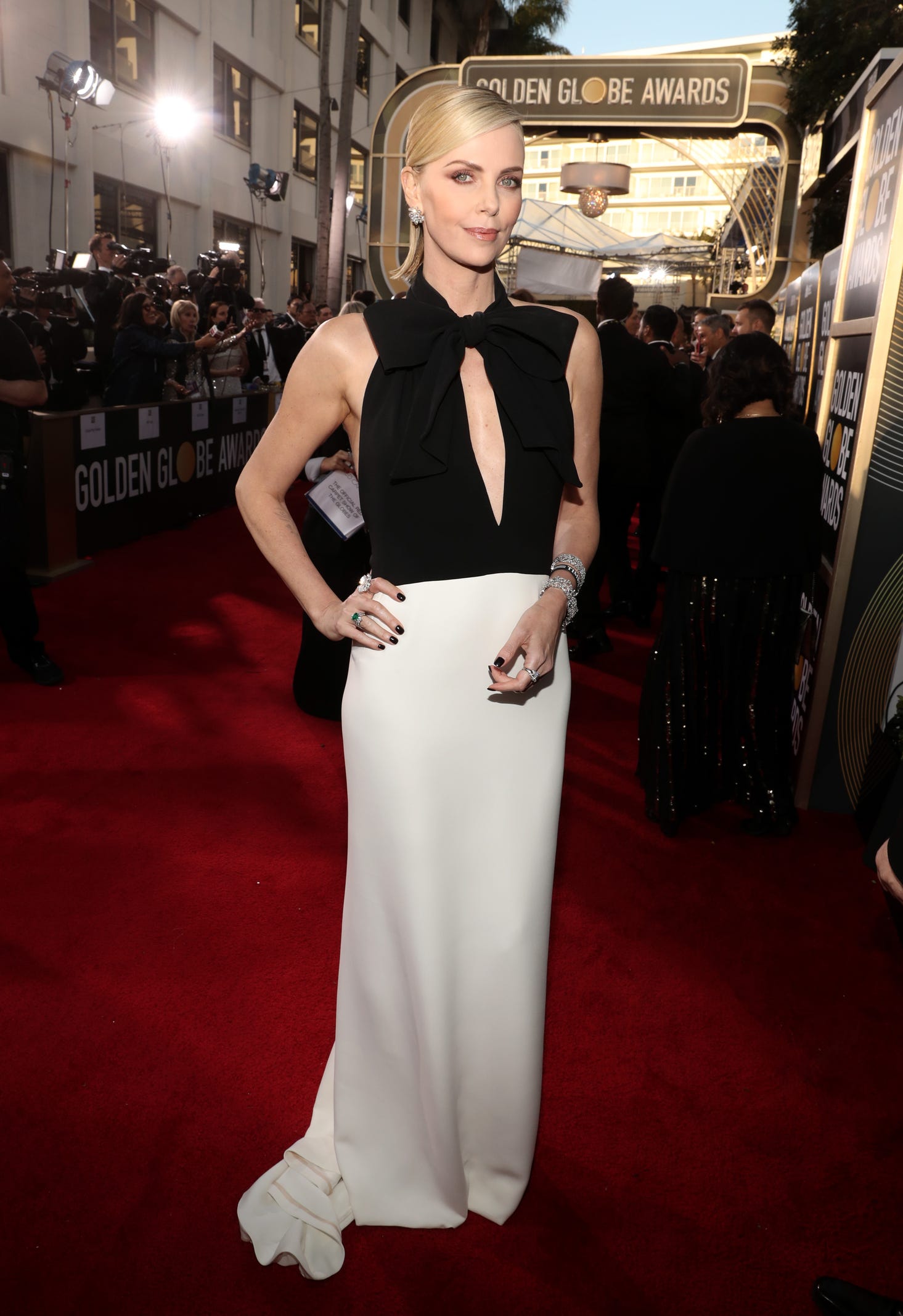 Best Dressed Woman – Charlize.
I just hope the Oscars are better!!!!!!
Tell me who your best and worst were. I'm so curious if I was the only one thinking it was such a clothes dud.