One of Cote de Texas' long time sponsors is Best Prices For Furniture. Each year I've been so thankful that they have had a giveaway to introduce readers to their services. And today, I am thrilled to offer their newest giveaway.
Here's a look at Best Prices For Furniture:
In short, if you are shopping for furniture or accessories or fabric and more, simply log onto their web site and browse through the brand names you are interested in. Shopping for what you might want is made so much faster & easier through Best Prices since all manufacturers are located on one site.
Bungalow Classics for Highland House & HERE.
When you find the piece you are looking for, simply request a quote through Best Prices For Furniture. Best Prices will put your request into their special discount dealer network where their established and authorized dealers will COMPETE for your business. These factory authorized dealers have been discounting high-end furniture for many years and most have Interior Designers available to help you with your custom purchases.
Celerie Kimble for Arteriors & HERE. Those fixtures!!!
Once your order is finalized, they will deliver it to you, nationwide, using white glove service.
Think about what an ease shopping for discounts now is. Before there was Best Prices For Furniture, you would have to either drive to North Carolina and shop all the discount furniture stores or call them – hoping you hadn't missed any shops.
Using Best Prices For Furniture from the comfort of your home sure beats driving around North Carolina, looking for discounts, all the while never knowing if there was a better discount right around the next corner. Now you know.
Personally, I think their services are particularly useful for those who see furniture they admire in decor magazines but don't know where to purchase it. And, the same goes for getting the best prices for furniture your favorite interior designer has created.
Windsor Smith's line with Century.
If you are like me, you read about designers who have their own lines with the major furniture manufacturers. But where to buy this furniture and at the best price?
This year for the giveaway, I've collected some of the more well known designers with furniture lines that I like and most likely you do too.
To enter the giveaway, visit the Best Prices For Furniture web site and find your favorite brand they give discount quotes for. Come back to my comment section and tell me which is your favorite of the bunch.
If you see something you want to order, be sure to ask for a quote!! It's free and you might be surprised just how much you can save using Best Prices For Furniture.
One winner will be drawn and will receive a gift card for $150. Good luck!!!!!
Here are a few of my favorite Interior Designers with their own furniture lines that Best Prices for Furniture gives discounted quotes on:
First is the hottest decorator today, the one who revived blue & white decor (well, that is after Nancy Meyers did it first with her movie Something's Gotta Give. No WONDER Sikes is redesigning her own home!!!) Sikes has several companies that he has designed for: F. Schumacher, Rattan for Soane, Merida Rugs, and he even has his own clothing line. But, one of his most important collaborations is with Henredon Furniture, launched in 2017. He based his line on the furnishings in his own Los Angeles home and his line, fresh and young, is exactly what everyone seems to want today: casual but chic, classic with a modern twist, and absolutely irresistible.
This collection is based on Sikes' own bedroom
Brown and white.
This year, Sikes added a deep green to his color palette.
Love!!!
Mark Sikes with Henredon Furniture and HERE.
Another favorite of mine is Suzanne Kasler's line with Hickory Chair.
It's gorgeous! Here is her line with touches of pink.
That ottoman!!
Just beautiful.
I love the way Kasler used this fabric on the chairs.
This piece is my favorite!!
I could go on and on admiring Suzanne's furniture. It's fabulous!
Suzanne Kasler with Hickory Chair and HERE.
Charlotte Moss has a line of furniture with Century. This dining table is one of my favorites in her line. I really like this if you need a large formal dining table – but what I like about it is it's not TOO dressy and not TOO formal! I think it's a great look with the dark brown top and white legs.
A closer look.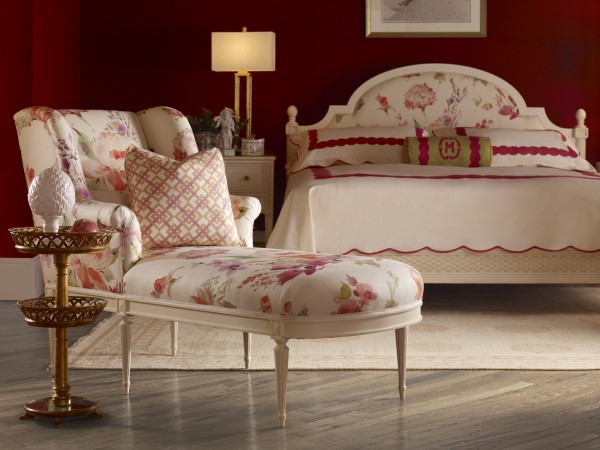 Charlotte designed this headboard and chaise which are ultra feminine – but it's the side table that caught my eye. I tend to always use oriental stools for small side tables, but this one is dressier and so pretty and so Charlotte!
Here's a close view of the table – see the antique mirror that the trays are made of. Love!
Charlotte Moss for Century and HERE.
Most designers tend to get inspiration from their own furniture. The piece below is from Windsor Smith's line and she has one like this in her own foyer:
You can see she updated the second version, with Lucite legs.
And this desk is like the one that was in Windsor's own house. I still love this piece – the lines are so simple it almost seems contemporary.
Windsor Smith for Century and HERE.
Mary McDonald sells her line at Chaddock. She is another designer who was inspired by her own house. That chaise! That chair!
This chair is one that really appeals to me. I love the color!
She recently updated the color palette in her bedroom line to this high contrast black and white.
McDonald's 4 poster bed and this screen are two of the more popular pieces from her line.
Mary McDonald for Chaddock and HERE.
Most of all the larger furniture companies have popular interior decorators as spokesmen and designers. Even some of the smaller companies are going this route. For instance, Aidan Gray just announced a partnership with designer/antique expert, The Antique Diva, which was showcased at this week's High Point Market.
At this week's market, the entire first floor of Aidan Gray was dedicated to his new partnership with Toma, The Antiques Diva. Here: Aidan Gray and HERE.
Best Prices For Furniture connects with almost all companies in the business, not just furniture.
Here, from Currey & Co, Bunny Williams has a light fixture line:
Library sconce by Bunny Williams for Currey & Co.
This could be both a chandelier or a flush mount.
Sconces from Bunny Williams.
Currey & Co. and HERE.
No lighting company has benefited more from their Designer partnerships than Visual Comfort and their retail shops Circa Lighting and HERE.
This is just a small portion of the talented designers who have lighting collections with Visual Comfort.
Best Prices For Furniture can get you the "Best Price" for almost anything in the design world – furniture, accessories, lighting, bedding, carpets & rugs, hardware, designer fabrics, and more.
NOW, to enter the giveaway:
Go to the web site Best Prices for Furniture HERE and look at all the different brands they can get you the best discounted price on.
Come back here and tell us in the comment section which company or designer you would be most interested in ordering from.
That's it!
You have one week – until this Saturday 10/20 at 11:59 pm to leave your comment/entry.
The winner?
Receives a credit card worth $150.00 cash!
Not bad for giving us your opinion!!!
AND, AS ALWAYS….
A huge thank you to the crew at Best Prices For Furniture for their000 loyalty and support!!!